PLC with 3.5" touch display and CODESYS V3 accor­ding to IEC 61131-3. The con­trol­ler of­fers a large number of inter­faces with ex­treme­ly compact dimensions
3.5" touch display
2× CAN interface acc. to ISO 11898
Microcontroller Cortex M4 and M0
Integrated microSD slot for up to 32 GB
Programming in C (HAL is available) or CODESYS V3
Modular expansion options
Protection class IP67 on the front side
eControl nano – modular, flexible and robust
The smallest control unit of the eControl product fam­ily has a powerful micro­con­troller with 204 MHz for signal proces­sing and a co-processor that handles the inputs/outputs and control processes. Operation is con­ve­nien­tly carried out via a 3.5" touch display. The screwable front mounting frame with integrated circulating seal ensures easy instal­lation and the protection classification IP67 on the front side provides the necessary protection in harsh environments. On the mem­ory side, 1 MB flash memory, a remanent memory with 32 KB and a microSD slot for up to 32 GB of additional memory volume are available.
Numerous interfaces and further inte­grated functions
The fanless system has two CAN interfaces accor­ding to ISO 11898, one of which is gal­va­ni­cally isolated.
In addition, the control system features an Ethernet, RS232 (TTL) and USB interface, as well as four electrically isolated digital inputs and relay out­puts. An additional integrated temperature sen­sor, as well as real-time clock and power fail de­tec­tion complement the control system. Due to the mo­dular principle, optional adaptations and fast implementation of customer-specific require­ments can be easily realized.
Programming in C or CODESYS – including HAL and finished graphics libraries
The controller is programmed in C (a HAL is available) and you benefit from free con­fi­gur­ation, para­met­er­ization and program­ming options. In addition, emWin from Seeger provides you with lib­raries for a graphical user interface (GUI). Opt­ionally, program­ming can also be realized with CODESYS V3.
CPU
Cortex M4 with 204 MHz and Cortex 40
RAM
up to 16 MB
Memory
1 MB
Expandable memory
microSD card up to 32 GB
TFT-Display
3.5"
Resolution
320×240
Touch
resistive
Ethernet
10/100 Mbit/s
USB
1× USB 2.0
CAN
2× CAN interface acc. to ISO 11898, galv. isolated
up to 1 Mbit/s (without 20 Kbit/s and 800 Kbit/s)
Serial interfaces (debug)
1× RS232 (TTL)
Digital inputs
4× DI, 24 V DC / max. 29 V DC; max. input current 2.1–2.6 mA
Relais outputs
4× RO, 230 V AC / 1 A; max. switching capacity 250 V AC
Real-time clock
integrated (buffered)
Dimensions (l×w×h)
163.5 mm × 117.5 mm × 50 mm
Storage temperature
–20°C up to +65°C
Operating temperature
0°C up to +50°C
Temperature sensor
integrated
Humidity
20 % up to 95 % non-condensing
Protection class front
IP67
Supply voltage
24 V DC ±20 %
Power fail detection
Measurement of the supply voltage (threshold at 18.6 V)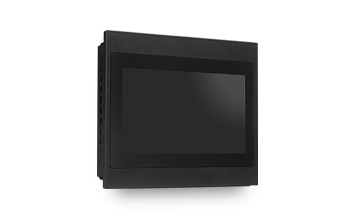 PLC control with numerous communication interfaces and the possibility to control stepper motors
7" Touch display
Numerous IOs, like stepper motor interfaces
Integrated microSD slot up to 64 GB
Optional: WLAN, Bluetooth
10.1" display
Integration of MDT 2.0
CAN and EtherCAT interface
Integrated motion sensor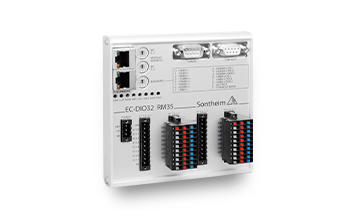 Digital 24 V module with 32 freely configurable in- and outputs and an EtherCAT and CAN inter­face.
Signal delay of less than 100 µs
32 freely configurable in- and outputs
Suitable for EtherCAT and CAN networks