The printing system en­ables seam­less in­te­gra­tion in­to ex­is­ting pro­ces­ses – com­plet­ely with­out chan­ging the pro­duc­tion se­quen­ces.
Active speed compensation
Printing during positive or negative acceleration
Software & firmware updates in the field via LAN
HP Inkjet Technology
Robust aluminium housing
The requirement
Do you want an industrial printing system that can be quickly, easily and completely inte­gra­ted into your pro­duc­tion proces­ses? Do you want pro­fes­sional print­ing results, re­gard­less of the materials used and the print­ing speed?
The elegant solution
EvoPrint® enables seamless integration of an industrial printing system into an existing machine without changing the production process. With a maximum print speed of up to 180 m/min or 3 m/s at 300 dpi re­so­lution, EvoPrint® is thus sig­nif­i­cant­ly faster than con­vent­ional print­ing systems. Even during acceleration, precise printing is still pos­sible. The active speed com­pen­sa­tion pre­vents dis­tor­tion or tearing of text and print images. At the same time, the direction recognition prevents data from being printed twice. You save process time and material costs! EvoPrint® provides software tools that can be fully integrated into the interface without the need for another PC-based interface in the machine. For print data transfer, EvoPrint® is simply connected to the existing user interface via LAN/Ethernet. EvoPrint® is then controlled via fieldbus interfaces such as EtherCAT or CAN, standard Ethernet and in­cre­mental encoders.
Applications
EvoPrint® has been tested and proven in practice. Close cooperation with our cus­tomers, combined with our know-how as a sys­tem inte­gra­tor, enables us to offer tailor-made sys­tem so­lu­tions for a wide range of app­li­ca­tions in the various industrial sectors within a very short time.
Extension options
Power reserves even for complex applications
32-bit microprocessor with 200 MHz
64 MB RAM and 32 MB Flash on board
Flexible application possibilities
No change in the production process
Mounting on static or moving axes
Printing of text, 1D & 2D barcodes and graphics
Highest quality
300 dpi at a printing speed of 180 m/min
Active speed compensation
Direction detection
Printing technology based on HP Inkjet Technology
Future-proof through innovative tech­nology
EtherCAT, CAN bus, standard Ethernet and incremental encoder
Software tools for integration into existing application software
CPU
Powerful 32-bit microprocessor with 200 MHz clock frequency; Fast FPGA to control the cartridges
Storage
32 MB Flash, 64 MB RAM on board
Connections
1× RJ45 LAN 100 Mbit IEEE 802.3
2× RJ45 (EtherCAT or CAN)
2× Incremental (Encoder) Interface (D-Sub9)
1× Supply voltage 9-pole phoenix
4× Digital outputs (Ub –0,5 V)
1× RS232 (D-Sub9)
Control panel/membrane keyboard
4 navigation keys for menu operation, 6× status LED for EtherCAT/CAN and LAN
LCD
LCD display with 2× 8 characters for device status, error code display, filling level alarm
Speed
Maximum print speed up to 180 m/min at 300 dpi resolution
Print distance
< 2 mm
Print height
max. 5 cm in one print process
Installation options
Static or moving axes
Number of cartridges
4× HP Inkjet Technology
Supported cartridges

C8842A versatile black, Q2344A SPS1918 DYE BlackC6168A, C6169A, C6170A and C6173A Spot Color (red, green, blue and yellow) VP90-E (UV curing), others on request

Average droplet size
26–29 pl (depending on the ink used)
Bulk system management
Supply via 1 of 2 bulk tanks for continuous printing of large jobs
Cartridge management
Cartridge calibration (pre-warming, spitting, pulse width, voltage)
Software
Various software tools for configuration and integration into existing applications
Easily programmable 32-bit API (DLL)
Features
Printing during positive or negative acceleration
Active speed compensation (no warping or tearing of the printed image!)
Direction detection (positive, negative)
Software/Firmware Update in the field via LAN
Dust protected
Dimensions (l×w×h)
187 mm × 114 mm × 218 mm
Protection class housing
IP52
Weight
approx. 3.3 kg
Rel. humidity during printing
10 % – 80 % non-condensing
Rel. bearing humidity
10 % – 80 % non-condensing
Operating temperature during printing
+10°C up to +40°C
Storage temperature
+10°C up to +30°C
Power supply
30 V DC (±5 %)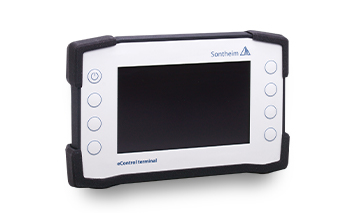 Robust and ver­sa­tile ter­mi­nals with high oper­ating com­fort for ma­chine con­trol and oper­ation.
7" touch displays
interfaces: WLAN, Bluetooth, USB, CAN
ATEX standard in eControl terminal
Protection class up to IP65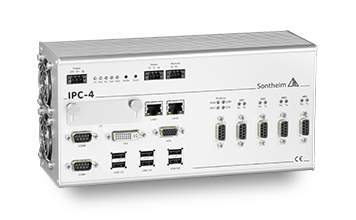 Industrial PCs for various tasks in auto­mation and con­trol tech­nol­ogy as well as the pos­si­bil­ity for individual configuration.
Several interfaces like CAN, Ethernet, USB, IOs
Temperature range from –40°C up to +85°C for harsh environments
Protection class IP20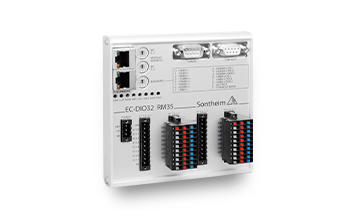 The IO modules for CAN, CANopen and EtherCAT are used for fast for­war­ding and safe manage­ment of analog and digital signals. Ad­dit­ional mo­dules, such as an inter­face con­ver­ter or multi­plex­er, are available as supp­lements.
CAN/CANopen
EtherCAT
Others