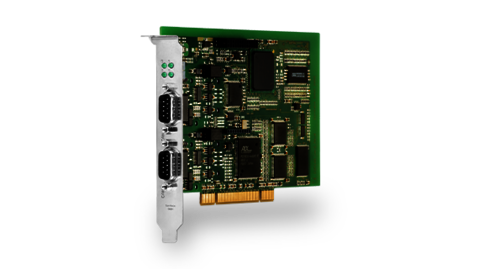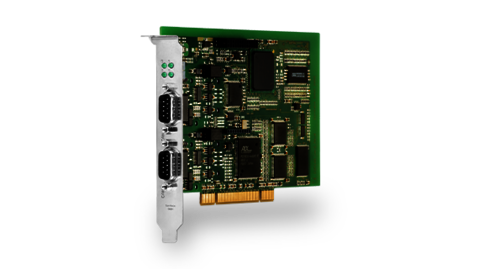 High performance card for PC coup­ling of the CAN bus for con­trol and re­gu­la­tion of the CAN net­work.
PC assumes the function of a CANopen manager
Control of other CANopen devices, e. g. motor controls
Transmission performance of 1 Mbit/s at 90 % bus load
Freescale Coldfire with 32 MHz clock frequency
2× galvanically isolated CAN channels
Equipment with high or low speed interface
LEDs for bus status display on the front bracket
Compatibility
The card is a PCI module with two galvanically isolated CAN interfaces according to ISO 11898, fully compatible with PCI-Specification 2.2 and designed as a PC plug-in card. The CAN controllers used provide 15 message objects each and are based on the FullCAN standard.
Microcontroller
The Coldfire from Freescale is used as a power­ful micro­con­trol­ler. The controller is oper­ated in 16 bit de­multi­plex­ed mode, which gua­ran­tees an optimal con­nection to the PCI controller. The implemented bootstrap loader makes it easy to load the firmware. Two "on-chip" CAN controllers realize the CAN con­nection in 2.0 B active mode.
Memory
By default 8 MB RAM and 2 MB Flash are installed. An external program­ming vol­tage does not have to be applied, as the Flash can be written and erased with 5 V. The firm­ware is stored in the flash, which can be updated via the boot­strap mode of the micro­con­trol­ler if required.
CAN interface
The board has two galvanically isolated CAN channels and two active 2.0 B CAN controllers, which also allow mixed operation with both 11 bit and 29 bit identifiers. The interface is designed according to ISO 11898 standard. As a high performance card, operation with CAN High (1 Mbit/s) and also CAN Low (125 Kbit/s) is of course possible.
Error frame detection
This optional feature enables the plug-in card to perform debugging and diagnosis in a CAN network. It has its own logic that detects error frames and counts them in an internal memory. This allows sporadic errors, such as the corruption of messages by a station in the network, to be detected.
Hardware
CPU
Freescale Coldfire
RAM
8 MB
Memory
2 MB
CAN
2× CAN interface acc. to ISO 11898, galv. isolated
CAN controller
2× FullCAN according to CiA (DIN41652)
CAN transceiver
Philips 82C251
CAN protocol
2.0 A and 2.0 B
CAN connectors
2× D-Sub9
Bus system
PCI
PCI controller
acc. to PCI 2.2 specification,
16k Dual-Port-RAM
LED
4× LED (green)
Dimensions (l×w×h)
164 mm × 102 mm × 13 mm
Operating temperature
0°C up to +60°C
Storage temperature
–20°C up to +75°C
Rel. humidity
20% – 90% non-condensing
Power supply
5 V
Power consumption
500 mA
| Software | |
| --- | --- |
| CANopen driver | for Windows NT |
| Layer 2 driver | for Windows 98, ME, NT, 2000, XP, Vista, 7; 32- and 64-bit |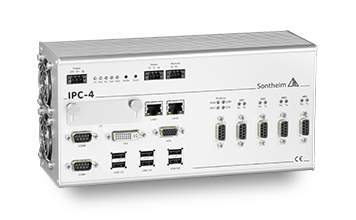 The IPC-4 is suitable for various tasks in auto­ma­tion tech­nol­ogy. More in­di­vi­du­ali­ty and more per­for­mance.
Computing power up to 2.16 GHz
Very good performance even in harsh environments
Suitable for industrial use due to integrated power supply and fan
All interfaces accessible from the front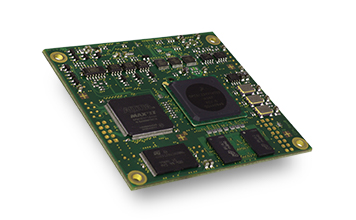 CAN interface and Ether­net bridge with a total of four CAN inter­faces accor­ding to ISO 11898 and eight dig­ital in­puts and out­puts each
Freescale micro­controller
Wide range of inter­faces
Internal flash and RAM memory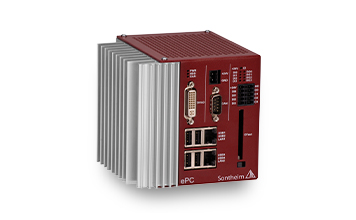 The ePC is ideally eq­uip­ped for all tasks re­la­ted to con­trol tech­nol­ogy. Ef­fic­ient, pas­sive­ly cool­ed and inte­grated IOs.
Link2Go: Extension modules can be attached without adapting the ePC
Numerous interfaces like CAN, Ethernet, IOs, CFast, DVI and USB
Full metal housing for optimum EMC protection (IP20)