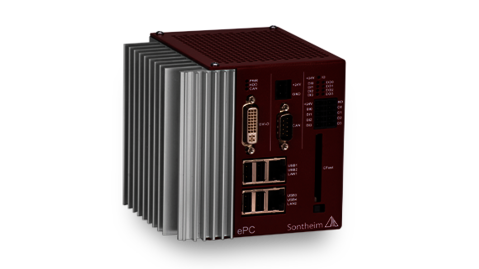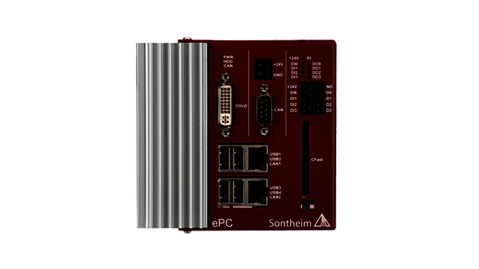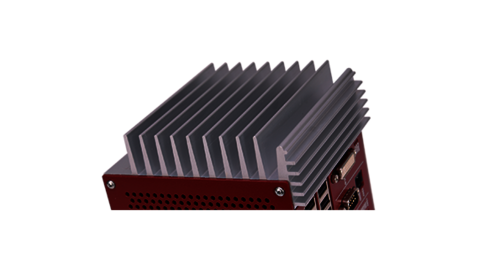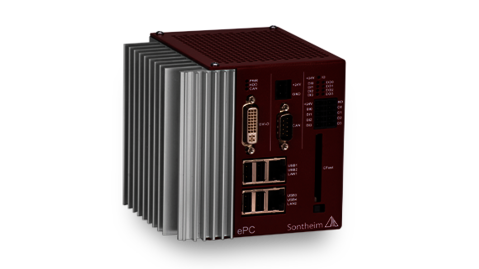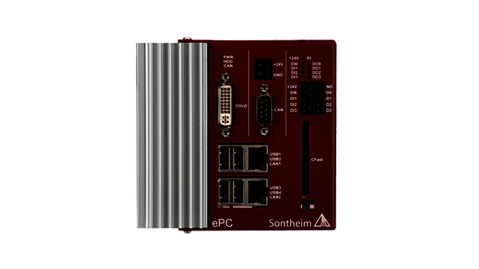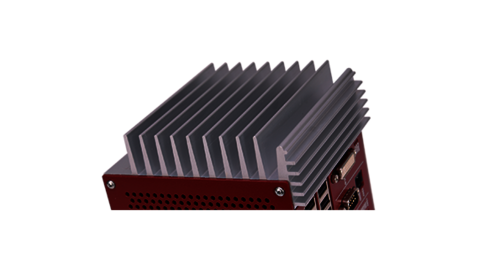 The embedded PC is a passively cool­ed and very compact PC sys­tem that opens up many areas of app­li­ca­tion due to its num­er­ous inter­faces and in­te­gra­ted soft­ware tools
Atom-CPU with passive cooling
Numerous interfaces like CAN, Ethernet, IOs, CFast, DVI and USB
Software tools for all tasks around the CAN bus
Link2Go: Extension modules can be attached without adapting the ePC like fieldbus couplers
IP20 full metal housing for optimum EMC protection
Key performance data
Various processors of the Atom series are avail­able. The chipset is characterized by high energy ef­fic­ien­cy and offers low heat loss. 1 to 2 GB RAM are available onboard and also enable more ex­ten­sive computing operations. The ePC has no rotating parts. Instead of a con­ven­tio­nal hard disk, the fast CFast is used as the suc­ces­sor to Compact Flash – the sys­tem can also be booted via this interface. The ad­van­tage is the speed of up to 3 Gbit/s for data transfer. All CFast cards from 4 to 32 GB are conveniently available from Sontheim.
Due to the full metal hous­ing, storage media and CPU, the system offers optimum EMC prop­er­ties and can be passive­ly cooled even under difficult en­vir­on­mental conditions.
Link2Go – Put it on!
Modern automation applications require ef­fic­ien­cy and the flex­i­bil­ity to be able to react pre­cise­ly to changing requirements.
With Link2Go we have created the possibility to connect individual add-on modules to the ePC quickly and conveniently and to ex­change them as required. The spectrum of plan­ned mo­dules ran­ges from touch dis­plays and bus coup­lers to read-only memories and serial interfaces. Customer-specific modules can also be created. Link2Go – create your per­so­nal embedded solution at a standard com­po­nent price.
Interfaces
For maximum flexibility, the ePC already has nu­mer­ous inter­faces without extensions (Link2Go modules). These include CAN, Ether­net (EtherCAT-capable), digital inputs and outputs, DVI and USB. In the basic con­fi­gur­ation, tasks as PLC, CAN bus master or slave, signal processing center and many other applications are possible. The integrated CFast interface is – similar to a USB stick – suit­able for data collection and also for booting the device.
Chipset
Freely selectable Atom-Chipsets, e. g. 1.3 GHz / 1 GB RAM
CPU boards are exchangeable, new CPU platforms thus retrofittable
RAM
1–2 GB, optional separate process data storage (Retain storage)
HDD
Slot for CFast-Card or Link2Go module, bootable
CAN
1× CAN interface acc. to ISO 11898, galv. isolated
LAN
2× Gigabit LAN (one interface is EtherCAT-capable)
WLAN
optional
Digital Inputs
4× DI, acc. to IEC 61131-2, separate supply
Digital Outputs
4× DO, acc. to IEC 61131-2, separate supply
USB
4× USB 2.0
DVI-D
1×
Connection of external
Peripheral components
Mouse, keyboard and other peripherals via USB 2.0
Visualization via DVI or via Link2Go module
LEDs
Power, HDD and CAN
Dimensions (l×w×h)
120 mm × 115 mm × 111 mm
Storage temperature
–20°C up to +65°C
Operating temperature
0°C up to +60°C; extended temperature range with –40°C up to +85°C
Humidity
5 % – 95 % non-condensing
Protection class
IP20
Power supply
24 V DC ±20 %
Total current
max. 1.2 A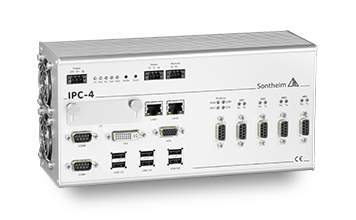 The IPC-4 is suitable for various tasks in auto­ma­tion tech­nol­ogy. More in­di­vi­du­ali­ty and more per­for­mance.
Computing power up to 2.16 GHz
Very good performance even in harsh environments
Suitable for industrial use due to integrated power supply and fan
All interfaces accessible from the front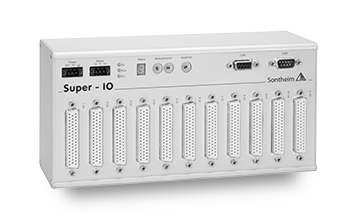 The IO modules allow a customized design for a wide range of CAN net­works. The close and flexible data com­mu­ni­ca­tion en­sures an ef­fic­ient and future-proof system.
Modules with analog or digital IOs
Galv. isolated CAN according to ISO 11898
Safety features for high running safety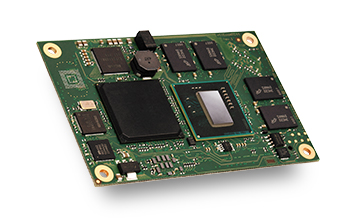 The customized em­bed­ded sys­tems have scal­able per­for­mance for mo­bile and net­work­ed sol­u­tions – even in harsh en­vir­on­ments thanks to an ex­tend­able temp­er­ature range.
Numerous interfaces, e.g. CAN, USB, PCIe
Onboard 10/100/1000 Mbit LAN
Intel Atom processor, Freescale i.MX6