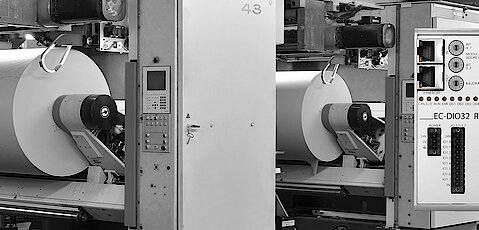 Development and integration of a CAN and EtherCAT based IO module
The ever-increasing complexity of more and more networked machine and plant systems brings with it growing demands for state-of-the-art automation. The focus here is on constant communication and the exchange of information. IO modules, i. e. the input and output of data records – such as temperature or fill level – between an information system and its environment, is a key component of this and must run smoothly and error-free. For increased efficiency and productivity of the systems fast, stable and high-performance signal processing must be ensured.
The uncomplicated integration of both CAN and EtherCAT, the signal delay of less than 100 μs and the integrated diagnostic function mean that process controls and automation solutions are always up-to-date. Since the solutions have to withstand harsh environments, an extremely robust design is required. These factors, which are needed for a future-proof and very high-performance solution, have been implemented in the EC-DIO32 RM35.
The IO module EC-DIO32 RM35 was designed for a leading engineering company. At the beginning there was the requirement of the OEM to provide the currently used CAN IO modules from Sontheim now also for EtherCat. Sontheim's development division resulted in the innovative proposal of the EC-DIO32 RM35 – which reduces downtime and enables higher machine availability. This is made possible by our freely configurable blocks of different inputs and outputs. A selector switch can thus be used to choose the desired specification required for the specific application. The big advantage in addition to the summary in a single module is the integrated diagnostic function. This allows service employees to clearly identify faults.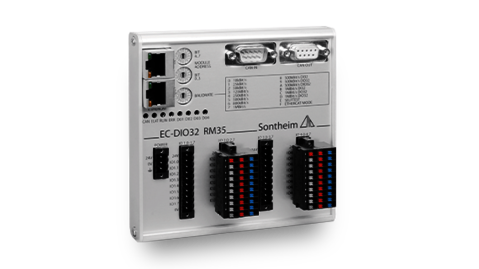 The integration of the two fieldbuses CAN and EtherCat enables machine manufacturers to easily switch from CAN to EtherCat, if higher bandwidths are required due to increasing demands on machine systems. Nothing hast to be changed on the existing IO modules. The EC-DIO32 RM35 speaks both fieldbus languages.
This saves high conversion costs and a lot of time. In addition, the factor of freely configurable switching blocks and the selection of the required IO module via the selector switch enables a new level of modularity. For the user, this eliminates high product variance, since all possible scenarios can be covered with one module.
Implemented and related products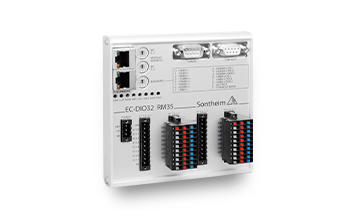 Digital 24 V module with 32 freely configurable in- and outputs and an EtherCAT and CAN inter­face.
Signal delay of less than 100 µs
32 freely configurable in- and outputs
Suitable for EtherCAT and CAN networks
7" touch display
CANopen interface according to ISO 11898
Integrated microSD card
Protection class IP50 on the front side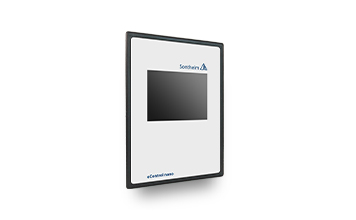 PLC control with mo­du­lar ex­ten­sion op­tions, two CAN inter­faces and CODESYS V3 or C (HAL).
3,5" touch display
2× CAN interface according to ISO 11898
Integrated microSD slot for up to 32 GB
Protection class IP67 on the front side