Extremely compact Computer-on-Module with Intel Atom pro­ces­sor and various inter­faces. An extended tem­per­a­ture range en­ables use in harsh environments
COM Express mini, Type 10
Intel Atom E6xx (600 MHz, 1 GHz, 1.3 GHz and 1.6 GHz)
Onboard 10/100/1000 Mbit LAN
1× CAN interface acc. to ISO 11898
6× USB 2.0
3× PCI Express
Also suitable for harsh environments due to increased temperature range
The Computer-on-Module has an Intel Atom pro­ces­sor and is also suitable for use in harsh environments due to an extended tem­per­a­ture range of –40°C to +85°C.
Numerous interfaces and scalable per­formance
In addition to six USB 2.0 interfaces, the Computer-on-Module also has a CAN channel with up to 1 Mbit/s, Ethernet and I²C for con­trol­ling peripheral components. Based on an Intel Atom chipset, four performance variants between 600 MHz and up to 1.6 GHz are available. Depending on the re­quire­ments, 500 MB, 1 or 2 GB DDR2-800 RAM are used, which means that even computationally intensive tasks are possible with low power con­sumption.
Compact form factor
Thanks to its extremely compact design (COM Express mini, Type 10), the mSiEcomTCtt can be mounted as a piggy-back variant on a customer-specific printed circuit board and is therefore ideally suited for the de­vel­op­ment of small devices that ben­e­fit from the high degree of stan­dar­di­za­tion and scalability of the COM Express standard. Mobile embedded handheld systems as well as small portable, stationary and in-vehicle devices that are used in a wide range of applications are particularly suitable for this purpose.
Hardware
CPU
Intel Atom E6xx (600 MHz, 1 GHz, 1.3 GHz and 1.6 GHz)
Cache
512 KB L2 Cache
Chipset
Intel Plattform Controller Hub EG20T
RAM
up to 2 GB DDR2-800 RAM
CAN
1× CAN 2.0 B active, up to 1 Mbit/s
USB
6× USB 2.0
Ethernet
10/100/1000 Mbit LAN
Interface
GPIO on COM Express Connector
SPI/SM Bus support
External Boot via SPI flash device / SM Bus support yes
PCI Express
3× PCIe
SATA II
2×
UART
1×
Audio controller
Intel High Definition Audio
Graphic controller
Integrated 2D/3D Graphics Engine, Gfx Core 333/400 MHz, shared VRAM
Video Encode: MPEG4, H.263, H.264
Video Decode: MPEG2, MPEG4, VC1, WMV9, H.264
Resolution
LVDS 18/24 bit 1280×768 @60 Hz
SDVO 1280×1024 @85 Hz
Operating system
Windows XP, XP embedded, 7, embedded 7, Linux
Dimensions (l×w)
55 mm × 84 mm, COM Express mini, Type 10
Storage temperature
–30°C up to +85°C, extended –40°C up to +85°C
Operating temperature
0°C up to +60°, extended –40°C up to +85°C
Rel. humidity
Operating: 10 % up to 90 %, Storage: 5 % up to 95 % non-condensing
Power supply
5.2–5.8 Watt @5 V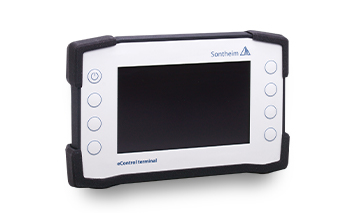 Robust and ver­sa­tile ter­mi­nals with high oper­ating com­fort for ma­chine con­trol and oper­ation.
7" touch displays
interfaces: WLAN, Bluetooth, USB, CAN
ATEX standard in eControl terminal
Protection class up to IP65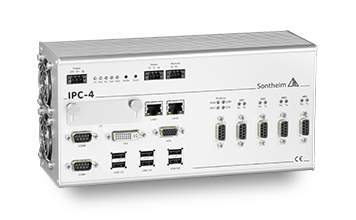 Industrial PCs for various tasks in auto­mation and con­trol tech­nol­ogy as well as the pos­si­bil­ity for individual configuration.
Several interfaces like CAN, Ethernet, USB, IOs
Temperature range from –40°C up to +85°C for harsh environments
Protection class IP20
3.5"–10,1" touch displays
CAN-, EtherCAT and serial interfaces
Integrated microSD slots
Protection class up to IP67 on the front side