The ultra energy-saving Computer-on-Module offers an optimal price-performance ratio. Scal­able buil­ding blocks en­able cus­to­mized mobile and net­work­ed embed­ded solutions based on ARM technology
Freescale i.MX 6 (Solo, dual, quad core, 800 MHz)
Up to 4 GB DDR3 memory
Onboard 10/100/1000 Mbit LAN
Numerous interfaces,
e.g. 3× USB 2.0, 3× PCIe
Extended temperature range
Evaluation board on-demand
Scalable performance and compact form factor
The i.MX 6 board from Sontheim is based on a 314-pin MXM 3.0 connector and standard dimensions of 82 mm × 50 mm. This creates extremely compact, durable and cost-ef­fec­tive development op­por­tu­ni­ties for mobile em­bed­ded hand­held sys­tems and small por­table, stationary and in-vehicle de­vices that can be used in a wide range of applications.
Designed for commercial and industrial temp­erature range
In addition to the normal one, the i.MX 6 board is also designed for the extended in­dus­trial tem­per­ature range from –40°C to +85°C. This opens up a wide range of app­li­ca­tions in the field of autom­ation, medical tech­nology and other work­ing en­vir­on­ments that do not correspond to the commercial temperature range and also entail harsh en­vir­on­mental con­di­tions. In ad­dition, an evaluation board is al­ready available on request.
Hardware
CPU
Freescale i.MX 6
Solo, dual and quad core ARM Cortex-A9
800 MHz, 1 GHz and 1.2 GHz
Graphic
Dual display
HD 1080p encoded and decoded
2D and 3D speed-up
RAM
DDR2 or DDR3 up to 4 GB
Memory
up to 64 GB NAND/eMMC on-module (customized)
USB
3× USB 2.0
Ethernet
10/100/1000 Mbit LAN
Display
Parallel LCD 18/24 bit
LVDS single channel 18/24 bit
HDMI
Image capture interface
2 interfaces (PCAM, CSI)
Serial interfaces
2× RX/TX (Ser 1/3); 2× UART (Ser 0/2)
Further interfaces
up to 3× PCIe, MLB150, 12× GPIOs, SDIO, SATA eMMC, 2× SPI, 5× I²C, 2× I²S,
SPDIF WDT, 2× CAN, battery and system management
Operating system support
Linux
Windows embedded compact 7 (on request)
Android (on request)
Operating temperature
0°C up to +60°C, extended area: –40°C up to +85°C
Dimensions
SMARC standard: 82 mm × 50 mm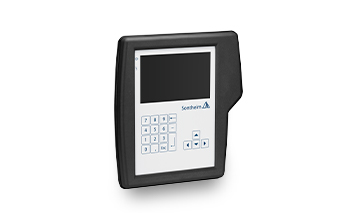 Robust and ver­sa­tile ter­mi­nals with high oper­ating com­fort for ma­chine con­trol and oper­ation.
7" touch displays
Interfaces: WLAN, Bluetooth, USB, CAN
Protection class up to IP65
Individual extensions possible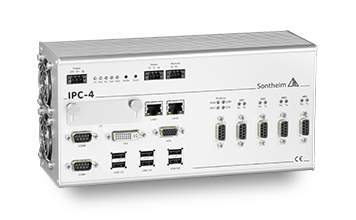 Industrial PCs for various tasks in auto­mation and con­trol tech­nol­ogy as well as the pos­si­bil­ity for individual configuration.
Several interfaces like CAN, Ethernet, USB, IOs
Temperature range from –40°C up to +85°C for harsh environments
Protection class IP20
3.5"–10,1" touch displays
CAN-, EtherCAT and serial interfaces
Integrated microSD slots
Protection class up to IP67 on the front side