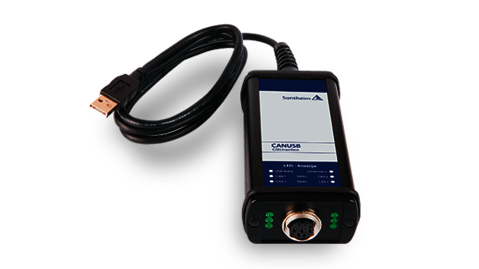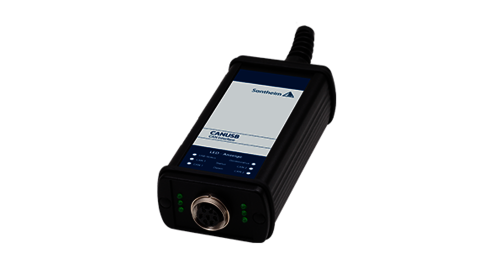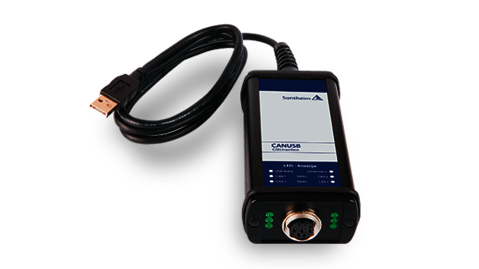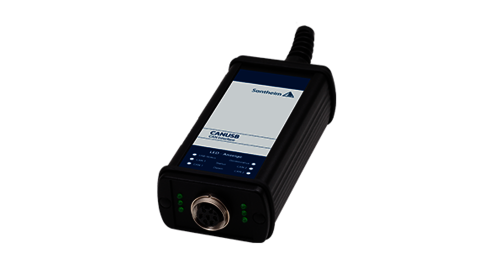 CAN interface with one or two gal­va­ni­cally isolated CAN in­ter­faces according to ISO 11898 on USB 2.0 with integrated dia­gnos­tic functions
1 or 2 galv. isolated CAN interfaces with 1 Mbit/s transfer capacity at 90 % bus load
Hot plug and play ensures fast and convenient commissioning
MT-API enables access to CAN bus for own applications
Optional variant with error frame detection
Ideal for use with a PC or notebook
Shock-resistant aluminium extrusion housing
Hosuing
The interface is made of an extruded alu­mi­nium housing. Due to its compact design and high shock resistance it is used very suc­cess­fully in various areas of the automation and auto­motive industry.
CAN channels
It has either one or two galvanically isolated CAN channels according to ISO 11898-2 with a transfer rate of 1 Mbit/s at 90 % bus load. The CAN inter­faces are each galv­an­i­cally isolated and are implemented via a 7-pin round con­nector.
More flexibility in data acquisition
With the USB 2.0 interface, the CANUSB can be operated on any notebook and desktop PC. The hot plug and play system makes its use even faster and more efficient, so that it can be put into operation quickly and without restarting the PC.
Microcontroller and firmware update
The STAR12 from Motorola and the PDIUSBD12 from Philips guarantee fast data processing. Both CAN 2.0 A and CAN 2.0 B are supported.
A firmware update is done directly via the USB interface.
Error frame detection
With this optional feature the CANUSB is able to take over debugging and diagnosis in a CAN net­work. The interface has its own logic which detects error frames and counts them in an inter­nal memory. This allows sporadic errors, such as the cor­rup­tion of mes­sages by a participant in the net­work, to be detected.

Level mesasurement
This feature makes it possible to read in the CAN levels analogously and thus, for example, to carry out fault dia­gnosis on a vehicle or machine. It is especial­ly im­por­tant when data is lost from the network, which can be caused by short circuits, for example.

Programming interface
With the CANapi it is possible to access the CAN bus for an own application. The SiECA132 MT-CANapi with four simultaneous handles is provided as standard.
| | |
| --- | --- |
| CPU CAN | Motorola Star12, 16-bit |
| CPU USB | Philips PDIUSB12 |
| CAN | 1× CAN interface acc. to ISO 11898-2, galv. isolated (optional 2× CAN) |
| CAN Connections | 1× 7-pin round plug |
| USB | 1× USB 2.0 |
| USB ports | 1× standard USB connector type A |
| Cable CAN | optional 2 m CANUSB cable |
| Cable USB | 1 m Standard USB |
| Max. data transfer | 1 Mbit/s at 90 % bus load |
| Error frame detection | optional |
| Analog level measurement | integrated |
| LEDs | 2× triple 3 mm LED angled |
| Dimensions (l×w×h) | 100 mm × 57 mm × 32 mm |
| Weight | 166 g |
| Housing | Solid aluminium |
| Operating temperature range | 0°C up to +70°C |
| Storage temperature range | –20°C up to +85°C |
| Rel. Humidity | 20 % – 90 % non-condensing |
| Power consumption | max. 350 mA at 5 V |
| Power supply | via USB interface |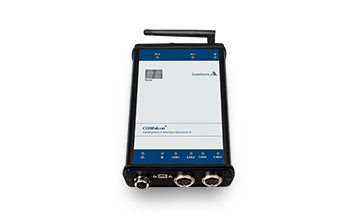 Powerful CAN interface with WLAN/LAN con­nec­tion for re­cor­ding CAN data and mon­i­to­ring en­tire net­works.
RS 232, RS 422, RS 485, K-Line
Protocolhandling
Compact housing with protection class IP65
Connection via USB 2.0
Free configuration of the baud rate including 800 Kbit/s
Multi-Thread API for own applications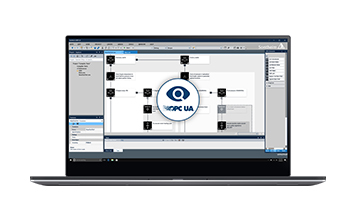 Next generation modular diagnostic tool for innovative machine park monitoring. Based on OPC UA, ODX and OTX standards.
OPC UA Server & Client
ODX 2.2.1 according to ISO 22901-1
OTX according to ISO 13209
Multi platform support