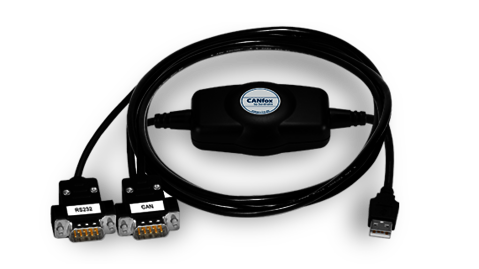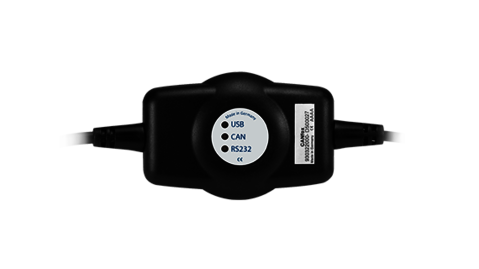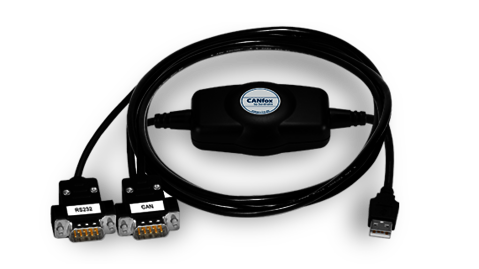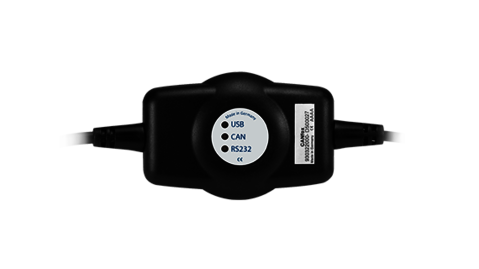 Compact interface with galv. isolated CAN- and an RS232-interface on USB 2.0
1× galv. isolated CAN interface acc. to ISO 11898 and 1× RS232
Connection via USB 2.0
Free configuration of baud rate including 800 Kbit/s
Powerful 32-bit microcontroller
CODESYS gateway driver available
Multi-Thread API for own applications
Driver for Windows 2000 up to Windows 10 with 32- and 64-bit
Single item price < €120
Housing and interfaces
The interface is made of a robust plastic housing and has an RS232 and an electrically isolated CAN interface. This is implemented via a D-Sub9 connector ac­cor­ding to CiA standard. With its USB 2.0 interface, the adapter can be operated on any note­book and desktop PC. Firm­ware updates are also car­ried out via USB. The hot plug and play system makes its use even faster and more ef­ficient, so that it can be put into operation im­me­dia­tely without having to restart the PC. Thus CANfox® offers all the necessary interfaces for mobile use with a laptop or stationary as a desktop device.
New performance class, low price
In addition to its interfaces, CANfox® has a 32-bit micro­controller for handling the data traffic. Du­ring de­vel­op­ment, the main focus was on flex­ible us­a­bil­ity and a low price.
You can therefore freely set the baud rate on the software side and thus adapt it to your process requirements. CANfox® is available from a pur­chase quantity of a single unit for less than €120.

Extensive software support
CANfox® is supported by all Sontheim tools such as CANexplorer 4 for CAN diagnostics and the Modular Diagnostic Toolchain for creating vehicle dia­gnos­tic applications. With the help of the included software interface (API), however, the user can also operate his own software. All that is required is to integrate the API into the user's own software. Thanks to the inte­grated CODESYS support from CODESYS GmbH, the interface can also be conveniently used in the field of control and drive tech­nol­ogy. It can thus be used as a programming gateway for communication with CODESYS-based con­trol­lers and for program downloads directly from the CODESYS de­vel­op­ment environment.
| | |
| --- | --- |
| CPU | 32-bit microcontroller |
| CAN | 1× CAN interface acc. to ISO 11898, via D-Sub9 |
| RS232 | 1× RS232 interface, via D-Sub9 |
| USB | 1× Standard USB Typ A, 75 cm cable length |
| Baud rates | 50 Kbit/s up to 1 Mbit/s, free configuration |
| Max. Data transfer | 1 Mbit/s at 90 % bus load |
| LEDs | 3× 3 mm LED |
| Housing | compact plastic |
| Operating temperature | –20°C up to +60°C |
| Storage temperature | –40°C up to +85°C |
| Rel. Humidity | 20 % – 90 % non-condensing |
| Power supply | via USB interface |
| CANAPI (=Windows DLL) | Windows 2000, XP, Vista, 7, 8; 32-bit. Windows 98 on request |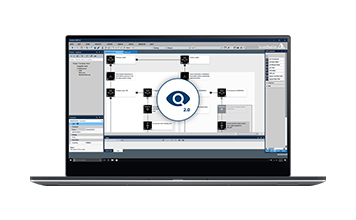 Modular authoring sys­tem for the cre­a­tion of complex dia­gnos­tic app­li­ca­tions in the auto­motive sector. Based on ODX and OTX stan­dard and an MCD-3D server.
ODX support according to ISO 22901-1
OTX support according to ISO 13209
MCD-3D Server
Platform independent
1 or 2 galv. isolated CAN channels with 1 Mbit/s
Ideal for use with a PC or notebook
Shock-resistant aluminium extrusion housing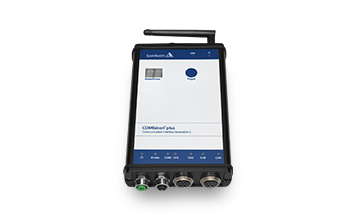 Extremely flexible CAN interface with num­erous inter­faces and power­ful PowerPC. In­clu­ding LUA script­ing and Linux oper­ating system.
RS 232, RS 422, RS 485, K-Line
Protocolhandling
Compact housing with protection class IP65