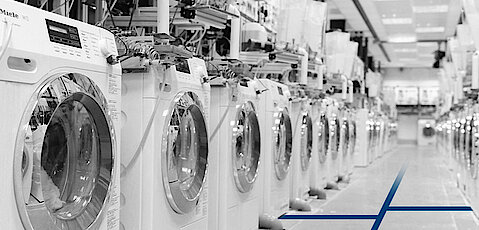 Company

>

eControl mIO xt with MDT 2.0
Development of a touch-based control system with OPC UA for endurance tests
Miele stands for excep­tional longevity. The consumer research company GfK has confirmed this with survey results. The first-time dura­bility of Miele washing machines is sig­nifi­cantly above the average of other manu­fact­urers. This requires a careful and solid test phase in the first step.
At Miele, this means 24/7 endurance testing marathons for on­going quality assurance for both new and already launched series. In line with Miele's guiding principle of "always better", testing is carried out for a service life of up to 20 years. The target is up to 10,000 hours, which must be achieved without any faults.
Such an extreme test implies test tools that can be relied upon. This is where the eControl mIO xt and the MDT 2.0 from Sontheim come into play. As hardware, the controler takes control of the test process. It receives signals and forwards commands, using EtherCAT or CAN as the fieldbus interface. The integrated motion sensor effectively saves energy during the endurance test. The Modular Diagnostic Toolchain, MDT 2.0 for short, is integrated on the eControl mIO xt. It defines, visualizes and executes the simulated program runs. In doing so, it uses the OPC UA, ODX and OTX standards. OPC UA enables data exchange between the test bench and the central server. Accordingly, it ensures continuous communication between the field devices and from them to the cloud – in other words, vertical and horizontal communication. The tool provides various options for creating, structuring and executing test bench workflows, based on the industry standard OTX (Open Test Sequence eXchange format) in accordance with ISO 13209. The ODX standard (Open Diagnostic Data Exchange) guarantees reusability of the service for test benches.
This creates a state-of-the-art and platform-independent environment for accessing machine data and performing test bench workflows.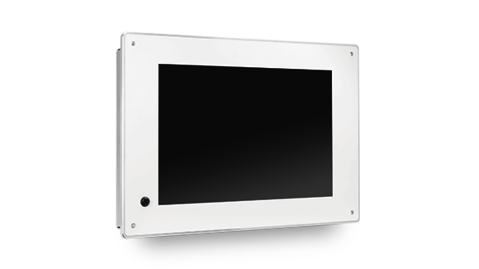 The multitude of integrated inter­faces makes the HMI versatile. By inte­grating a motion sensor on the front panel, the display and back­light switch off when not in use, thus saving energy. The modular diagnostic tool chain with OPC UA creates the perfect complement to the hardware.
The (washing) machine information obtained can be used throughout the environ­ment thanks to the manu­facturer- and platform-independent archi­tecture of OPC UA and, in the next step, made available in a cloud. Other data formats used include MQTT.
Implemented and related products
10.1" display
Integration of MDT 2.0
CAN and EtherCAT interface
Integrated motion sensor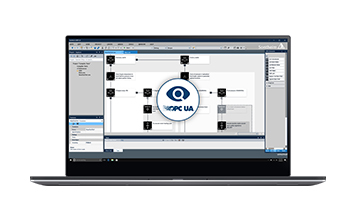 Next generation modular diagnostic tool for innovative machine park monitoring. Based on OPC UA, ODX and OTX standards.
OPC UA Server & Client
ODX 2.2.1 according to ISO 22901-1
OTX according to ISO 13209
Multi platform support