Extremely flexible VCI with numerous interfaces and high-performance PowerPC. Ideal for use in de­vel­op­ment, production and service app­li­ca­tions
4× CAN interface acc. to ISO 11898
WLAN interface
RS 232, RS 422, RS 485, K-Line
Protocol handling
Optional with data logging, scripting, CAN voltage level oscilloscope functionality
Optional with integrated SD Card
Compact housing with protection class IP65
Housing and Status display
The interface has a robust aluminium housing with protection class IP65. Due to the com­pact design and the high shock resistance COMfalcon® can be used in different areas of the auto­ma­tion and au­to­mo­tive industry. Two 14-segment displays and nine LEDs always indicate the current operating status/error code of the device.

Interfaces
COMfalcon® has four CAN interfaces in total and is based on the CAN interface CIN with Freescale PowerPC architecture. The con­nec­tion to the dia­gnos­tic PC is es­tab­lished via WLAN/LAN. In addition to the CAN chan­nels, various other inter­faces such as RS232, RS422, RS485 or K-Line are available for diagnostic purposes.
Error frame detection
With this feature COMfalcon is able to take over the troubleshooting and diagnosis in a CAN network. The interface has its own logic, which detects error frames and counts them in an internal memory. Thus sporadic errors, such as the fal­si­fi­ca­tion of messages by a par­tic­i­pant in the network, can be detected.

ID related level measurement – resistance measurement / current meas­urement
This feature enables the CAN levels to be read in IO-related as well as active and passive ter­mi­na­tion re­sis­tors to be measured and thus, for example, to carry out fault dia­gno­sis on a vehicle or machine. This is par­tic­u­larly important if data is lost from the net­work, which can be caused by short circuits, for example.
CPU
Freescale PowerPC
RAM
64 MB
Memory
16 MB (for data logging optionally up to 128 MB)
CAN
4× CAN interface acc. to ISO 11898
Baud rates
50 Kbit/s up to 1 Mbit/s
CAN termination resistance measurement
Terminating resistor of the vehicle CAN network with active bus
CAN Port
2× 7-pole M16 port (like Sontheim CANUSB-2)
RS232
D-Sub9 Plug A
Serial multiplex interface
D-Sub9 Plug A
5 different serial interfaces, changeable via software
K-/L-Line
K-/L-Line (acc. to ISO 9141-2, ISO 14230-4)
Baud rate up to 56 kBaud/s
RS485
EIA/TIA-485 compatibel
Baud rate up to 10 Mbit/s
no integrated termination resistor
RS422
ANSI/TIA/EIA-422 compatibel
Baud rate up to 10 Mbit/s
no integrated termination resistor
LAN
M12 4-pin female connector
100 Mbit LAN, D-coded
WLAN
1× acc. to IEEE 802.11g, up to 54 Mbit/s
14 segment display
Boot-information, K-line mode, RS-mode, measurement, error codes
LEDs
Power LED (green)
LAN status LED (green and yellow)
WLAN status LED (green and yellow)
4× CAN status LED (green and yellow)
2× RS status LED (green and yellow)
Dimensions (l×w×h)
110 mm × 150 mm × 35 mm
Housing
Aluminium, protection class IP65
Operating temperature
–20°C up to +60°C
Storage temperature
–40°C up to +85°C
Power Supply
a.) 6 up to 32 V DC with load-dump protection;
b.) via USB V = 5 V, IMAX < 500 mA (with Mini-B-USB connection)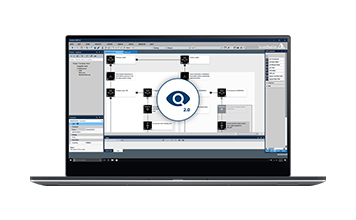 Modular authoring sys­tem for the cre­a­tion of complex dia­gnos­tic app­li­ca­tions in the auto­motive sector. Based on ODX and OTX stan­dard and an MCD-3D server.
ODX support according to ISO 22901-1
OTX support according to ISO 13209
MCD-3D Server
Platform independent
1× CAN interface acc. to DIN ISO 11898
1× RS232 interface
1× USB 2.0 interface
Powerful 32-bit microcontroller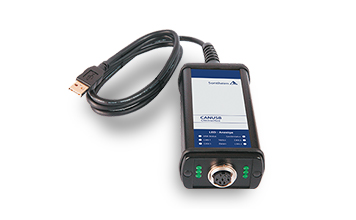 CAN Interface with one or two galvanically iso­lated CAN interfaces on USB 2.0. with in­te­gra­ted dia­gnos­tic func­tions.
1× or 2× CAN interface acc. to ISO 11898
1× USB 2.0
Opt. with level measurement
Opt. with error frame detection