Compact interface with galv. isolated CAN- and a RS232-interface on USB 2.0
1× galv. isolated CAN interface acc. to ISO 11898 and 1× RS232
Connection via USB 2.0
Free configuration of baud rate, incl. 800 Kbit/s
Powerful 32-bit microcontroller
CODESYS Gateway-driver available
Multi-Thread API for own applications
Driver for Windows 2000 up to Windows 10 with 32- and 64-bit
Single item price < €150
Housing and interfaces
It is housed in a compact plastic case and offers a CAN channel and a RS232 channel. CAN is of CiA standard D-Sub9 design. Its USB 2.0 interface enables the CANfox to be used at any laptop, embedded PC or desktop PC. Once you have instal­led the driver you will benefit from hot plug and play, which is a con­nec­tion of device to PC without restart. Con­sequen­tly, CANfox® offers all necessary interfaces located in a tiny case for mobile or stationary use.

More performance, less costs
It is a powerful device within the Sontheim interface group with its 32-bit micro­con­trol­ler for data-handling. However, the CANfox® is meant to be a flex­ible and very inexpensive tool.
Thus, you can configure the baudrate via software and adapt it to your processes. A single unit is avail­able for less than €150 so please don't hesitate to contact us for an offer.

Comprehensive software support
Of course, CANfox® is supported by all Sontheim software like CANexplorer 4 for CAN bus dia­gnos­tics, or MDT® for vehicle app­li­ca­tions like dia­gnos­tics or End-of-Line processes. Additionally, with purchasing an interface you get the pro­gram­ming interface (API) for integrating the CANfox® into your own software. There is also a CODESYS sup­port implemented in order to use the de­vice for PLC and motion control tasks. Use it as a programming gateway for CODESYS-based PLCs or for downloading programms directly out of a CODESYS programming en­vironment.
| | |
| --- | --- |
| CPU | 32-bit microcontroller |
| CAN | 1× CAN interface acc. to ISO 11898, via D-Sub9 |
| RS232 | 1× RS232 interface, via D-Sub9 |
| USB | 1× Standard USB Typ A, 75 cm cable length |
| Baud rates | 50 Kbit/s up to 1 Mbit/s, free configuration |
| Max. Data transfer | 1 Mbit/s at 90 % bus load |
| LEDs | 3× 3 mm LED |
| Housing | compact plastic |
| Operating temperature | –20°C up to +60°C |
| Storage temperature | –40°C up to +85°C |
| Rel. Humidity | 20 % – 90 % non-condensing |
| Power supply | via USB interface |
| CANAPI (=Windows DLL) | Windows 2000, XP, Vista, 7, 8; 32-Bit. Windows 98 on request |
1× CAN interface acc. to ISO 11898
1× Bluetooth 4.1
12 V or 24 V compatibel
Extremly compact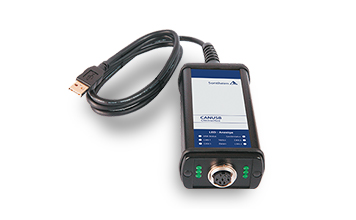 CAN Interface with one or two galvanically iso­lated CAN interfaces on USB 2.0. with in­te­gra­ted dia­gnos­tic func­tions.
1× or 2× CAN interface acc. to ISO 11898
1× USB 2.0
Opt. with level measurement
Opt. with error frame detection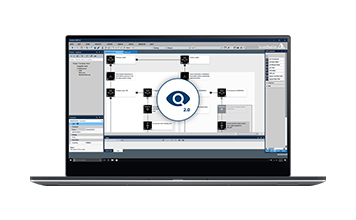 Modular authoring sys­tem for the cre­a­tion of complex dia­gnos­tic app­li­ca­tions in the auto­motive sector. Based on ODX and OTX stan­dard and an MCD-3D server.
ODX support according to ISO 22901-1
OTX support according to ISO 13209
MCD-3D Server
Platform independent