Extremely flexible VCI with numerous interfaces and high-performance PowerPC. Including LUA scripting and linux op­er­ating system
4× CAN interface acc. to ISO 11898
WLAN interface
RS232, K-Line
Protocol handling
Optional with data-logging, scripting, CAN voltage level oscilloscope funcionality
Optional with integrated SD card
Compact housing with protection class IP65
Housing and status display
The interface has a robust aluminium housing with protection class IP65. Due to the com­pact design and the high shock resistance COMfalcon® plus can be used in different areas of the automation and automotive in­dus­try. Two 14-segment displays and nine LEDs always indicate the current operating status/error code of the device.

Interfaces
The COMfalcon® plus has a total of four CAN interfaces and a Freescale PowerPC arch­i­tec­ture. The connection to the diagnostic PC is established via WLAN/LAN or bluetooth as an option. In addition to the CAN channels other interfaces such as RS232 or K-Line are available for diagnostic purposes.

LUA scripting
Own embedded applications run directly on the COMfalcon® plus in LUA without the need for a third device (laptop or PC). Among other things, it is possible to store your own in­for­ma­tion such as
create and implement flash routines or ECU de­scrip­tions and thus access the CAN or file sys­tem, for example. Furthermore, the em­bed­ded applications are portable and can be reused for future Sontheim VCI gen­er­ations.

Error frame detection
This function enables the monitoring and ob­ser­va­tion of a CAN network. The COMfalcon® plus has its own logic to detect error frames and to count up in a certain inter­nal memory area. This is used to identify intermittently occurring errors such as fake mes­sag­es of a CAN participant.

ID related level measurement – resistance measurement/current measurement
This feature enables the CAN levels to be read in IO-related as well as active and passive termination resistors to be measured and thus, for example, to carry out fault diagnosis on a vehicle or machine. This is particularly important if data is lost from the network, which can be caused by short circuits, for example.
CPU
Freescale PowerPC
RAM
64 MB
Memory
4 GB (for data logging optionally up to 32 GB Flash NAND)
CAN
4× CAN interface acc. to ISO 11898
Baud rates
50 Kbit/s up to 1 Mbit/s
CAN Termination resistance measurement
Terminating resistor of the vehicle CAN network with active bus
CAN Port
2× 7-pole M16 port (like Sontheim CANUSB-2)
RS232, K-Line
M12 5-pin female connector
K-/L-Line (acc. to ISO 9141-2, ISO 14230-4)
baud rate up to 56 kBaud/s
LAN
M12 4-pin female connector
10/100 Mbit LAN, D-coded
WLAN
1× acc. to IEEE 802.11b,g,n,d,e,i up to 65 Mbit/s
Bluetooth (optional)
2.1+EDR, Power Class 1.5, BLE 4.0 and ANT
USB
USB 2.0 IF Connector, Typ A
14-segment Display
Boot-information, K-/L-line mode, RS-mode, measurement, error codes
LEDs
LAN Status LED, green and yellow
Wi-Fi/Bluetooth Status LED, green and yellow
4× CAN Status LED, green and yellow
RS232; K-/L-Line Status LED, green and yellow
Dimensions (l×w×h)
110 mm × 150 mm × 35 mm
Housing
Aluminium, Protection class IP65
Operating temperature
–40°C up to +60°C
Storage temperature
–40°C up to +85°C
Supply
via CAN 12 V – 24 V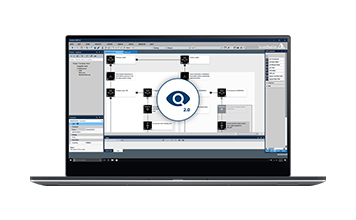 Modular authoring sys­tem for the cre­a­tion of complex dia­gnos­tic app­li­ca­tions in the auto­motive sector. Based on ODX and OTX stan­dard and an MCD-3D server.
ODX support according to ISO 22901-1
OTX support according to ISO 13209
MCD-3D Server
Platform independent
1× CAN interface acc. to DIN ISO 11898
1× RS232 interface
1× USB 2.0 interface
Powerful 32-bit microcontroller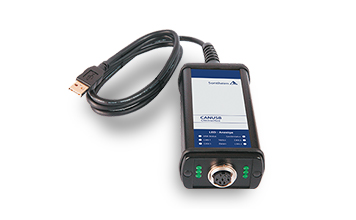 CAN Interface with one or two galvanically iso­lated CAN interfaces on USB 2.0. with in­te­gra­ted dia­gnos­tic func­tions.
1× or 2× CAN interface acc. to ISO 11898
1× USB 2.0
Opt. with level measurement
Opt. with error frame detection