1× CAN interface acc. to ISO 11898
1× ISOBUS acc. to ISO 11783
1× Bluetooth 4.1
1× WLAN, IEEE 802.11 b/g/n (optional)
12 V or 24 V compatible
IP20 protection class
Smart ISOBUS Gateway
The very compact ISOfox is equipped with one ISOBUS interface according to ISO 11783 and one CAN interface according to ISO 11898-2. You can simply connect the device to the ISOBUS and the data is sent via Bluetooth or WLAN (optional) to a smartphone, tablet or mobile device. The VCI is com­pat­ible with any ISOBUS tractor or implement.
Integrated MT-API interface
The integrated API of ISOfox allows a quick and easy realization of OEM applications. The OEM can thus implement his own ISOBUS plug-and-play functionalities for his vehicle efficiently and quickly. With ISOfox it is pos­sible to check the connectivity on the ISOBUS or to perform live monitoring of the ma­chine data. In addition, the device provides a simple overview of relevant operating and service data and can execute simple dia­gnos­tic applications.
CPU
32-bit microcontroller, Cortex-M4/M0
RAM
32 MB SDRAM
Memory
4 GB up to 64 GB eMMC NAND Flash
CAN
1× CAN interface acc. to ISO 11898-2
ISOBUS
1× ISOBUS interface acc. to ISO 11783
Bluetooth
4.1 + LE, BR/EDR
WLAN (optional)
1× IEEE 802.11 b/g/n
WPA/WPA2, WEP, TLS/SSL, HTTPs, TCP, UDP, DHCP, DNS
Status
3× LED, 14-segment display
Dimensions (l×w×h)
74 mm × 40 mm × 40 mm
Operating temperature
0°C up to +60°C
Storage temperature
–20°C up to +85°C
Protection classification
IP20
Power supply
12 V or 24 V compatible
1× CAN interface acc. to ISO 11898
1× Bluetooth 4.1
12 V or 24 V compatibel
Extremly compact
1× CAN interface acc. to DIN ISO 11898
1× RS232 interface
1× USB 2.0 interface
Powerful 32-bit microcontroller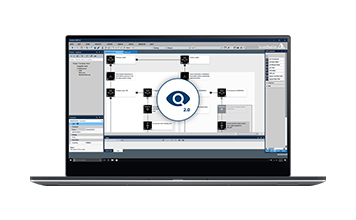 Modular authoring sys­tem for the cre­a­tion of complex dia­gnos­tic app­li­ca­tions in the auto­motive sector. Based on ODX and OTX stan­dard and an MCD-3D server.
ODX support according to ISO 22901-1
OTX support according to ISO 13209
MCD-3D Server
Platform independent