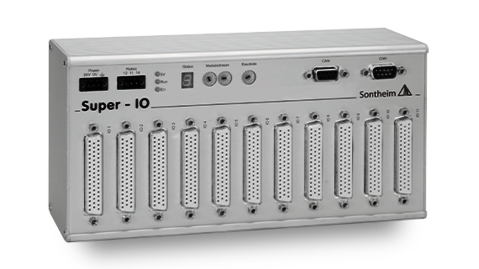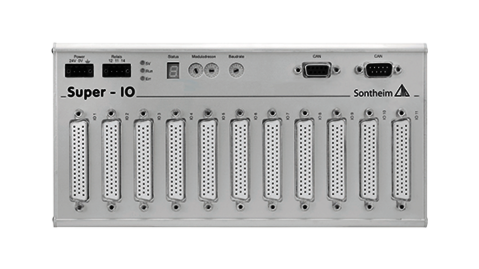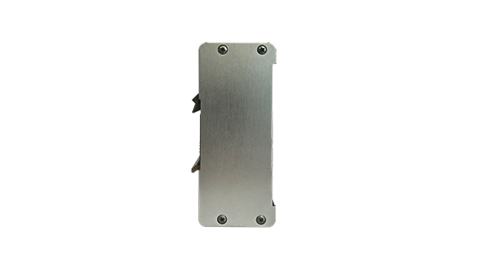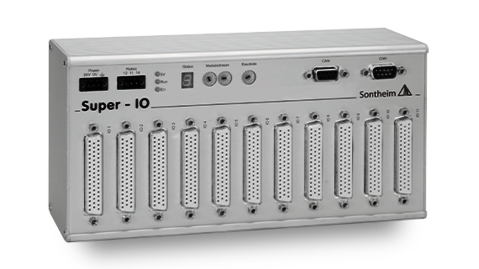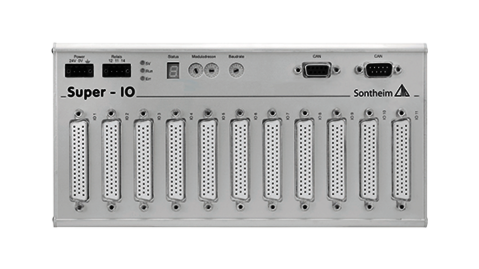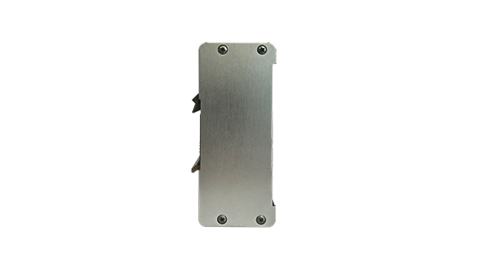 24 V high performance module with 160 digital inputs and 192 digital outputs
Safety features for high running safety
Galv. isolated CAN interface acc. to ISO 11898
Easy access to all interfaces
Own intelligence for complex CAN networks
All clamps pluggable and lockable
Signal delay of less than 400 μs
Galv. isolated in- and outputs
Compact aluminium housing with IP20 and integrated top hat rail mounting
Housing and clamps
The compact housing is made of aluminium and classified to IP20. It contains a top-hat rail moun­ting and all interfaces are located on the front for optimal access and overview in the con­trol cabinet. The technician will notice this advantage when working on the bus cabling. The module uses very robust clamps and cables for the connection of sensors and actors. To maximize resistance to mechanical force, all clamps can be locked.
LEDs and switches
You can easily configure the baud rate and module address with HEX switches on the front cover. In ad­dition, there is a 7-segment display as well as some LEDs to indicate the device status.
Signal processing and CAN interface
In addition to its inputs and outputs, the Super-IO offers a powerful micro­con­troller for data ac­qui­si­tion from sensors, control of actors and processing of CAN data. An im­por­tant safety fea­ture is the monitoring cap­a­bil­ity, which is fully integrated into the IO for network monitoring.
Furthermore, there is a relay contact (changeover) as an additional safety measure. If an absence of master monitoring is registered, the module im­­me­diately goes into STOP mode. The integrated CAN interface has been designed ac­cor­ding to DS 301 and 401 and allows flexible use at dif­ferent lo­ca­tions and for different processes in CAN bus networks. All Sontheim CAN interfaces com­ply with ISO 11898.
Power supply
The device requires a 24 V power supply. Due to the reverse polarity protection, the user cannot damage the module even if the wrong power connection is made. Short voltage sur­ges are eli­mi­n­ated by EMI cabling.
Adaptation
Often the requirements in an automation process are very different and the IO modules have to be adapted to customer-specific re­quire­ments. This applies in particular to the num­ber and type of inputs and outputs, the fieldbus, the module power supply, the IO channels and much more. We would be pleased to adapt the module to your specific requirements.
Hardware
CPU
16-bit microcontroller
CAN
1× CAN interface acc. to ISO 11898, galv. isolated;
Connection with two RJ45 socket (bridged)
CAN protocol
DS 301 and 401
Setting
of module address via 2 HEX switches
of baud rate via HEX switch
Connection system
D-Sub50 clamp, lockable
Operating system display
1× LED green (run) for operating mode
1× LED red (error) for error status
1× LED green (power) for supply voltage
1× 7-segment display for module activities like Init
Pre-Operational, Operational and error
Dimensions (l×w×h)
240 mm × 125 mm × 90 mm
Protection class
IP20, EMC requirements acc. to CE
Storage temperature
–30°C up to +70°C
Operating temperature
0°C up to +60°C
Humidity
90 % non-condensing
Power supply
24 V DC ±20 %
| Digital inputs | |
| --- | --- |
| Number of inputs | 160 |
| Switching level "1" | +15.0 V to +28.8 V |
| Switching level "0" | 0.0 V to +8.0 V |
| Potential isolation | Optocoupler |
| Input current/input | 11 mA |
| Sampling frequency (Fg) | 5 kHz |
| Signal delay | < 100 μs |
| Digital outputs | |
| --- | --- |
| Number of ouputs | 192 |
| Power | 24 V DC ±20 % |
| Circuit type | FET-Highside switch |
| Potential isolation | Optocoupler |
| Output current/output | 500 mA |
| Total current of the module | 8 A |
| Sampling frequency | 1 kHz |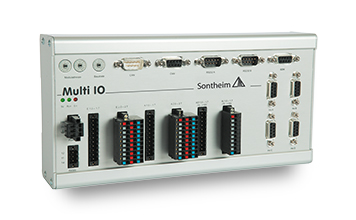 24 V high-per­for­mance module for in­put and out­put of digi­tal and analog sig­nals with a total of 52 IO`s and various features.
16 digital in- and outputs
8 analog in- and outputs
Galv. isolated CAN interface acc. to ISO 11898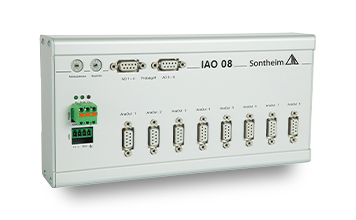 24 V module with 8 an­alog outputs and an elec­tri­cal­ly iso­lated CAN inter­face accor­ding to ISO 11898.
8 analog outputs
Galv. isolated CAN interface acc. to ISO 11898
Safety features for high running safety
32 digital inputs
Galv. isolated CAN acc. to ISO 11898
IP20, EMC requirements acc. to CE