Safety features for high running safety
Galv. isolated CAN interface acc. to ISO 11898
Easy access to all interfaces
Own intelligence for complex CAN networks
Signal delay with less than 400 μs
Galv. isolated inputs
Compact aluminium housing with IP20 and integrated top hat rail mounting
Overview of all interfaces
32 digital inputs
Connection technology
Using the 3-wire connection technology, all sensors can be connected directly to the module. The phoenix clamps used ensure a simple and extremely robust connection, which makes the IDI32 very resistant and process safe. Each IO block of the device is galvanically isolated and is sup­plied with power separately. Thus, different vol­tages can be applied to one module for the operation of emergency stop circuits such as safety doors.
CAN interface
Two RJ45 sockets for the CAN interfaces are provided on the module, allowing easy con­nec­tion to other modules via Ethernet patch cables. In this way, decentralized use of the module is also possible.
LEDs and switches
All inputs are indicated by an LED above the clamp. In addition, both the baud rate and the module address can be set and read at any time using HEX switches.
Signal processing
In addition to the inputs, the IDI32 has a power­ful micro­con­trol­ler that handles the ac­qui­si­tion of the sensors, the control of the act­u­ators and the CAN protocol.
Hardware
CPU
16-bit microcontroller
CAN
1× CAN interface acc. to ISO 11898, galv. isolated,
connection with two RJ45 sockets (bridged)
CAN protocol
DS 301 and 401
Number of modules/bus
127
Setting
of module address via 2 HEX switches
of baud rate via HEX switch
Connection system
Spring connection,
Clamping range 0.25 – 1.5 mm², solid wire "e"
Fine wire "f" 0.25 – 1.5 mm², "f" with wire end ferrule,
without plastic collar 0.25 – 1.5 mm²
Connection technology
Two-wire and three-wire connection, stripping length 10 mm
Operating status display
1× LED green for supply voltage (5 V)
1× LED green for operating mode (run)
1× LED red for error status (err)
32× LED green for set inputs
Dimensions (l×w×h)
241 mm × 120 mm × 48 mm
Weight
850 g
Protection class
IP20, EMC-requirements acc. to CE
Storage temperature
–30°C up to +70°C
Operating temperature
0°C up to +60°C
Humidity
90 % non-condensing
Power supply
24 V DC ±20 %
All in- and outputs active, including LEDs
400 mA
| Digital inputs | |
| --- | --- |
| Number of inputs | 32 |
| Switching level "1" | +15.0 V up to +28.8 V |
| Switching level "0" | 0.0 V up to +8.0 V |
| Potential isolation | Optocoupler |
| Input current/input | 11 mA |
| Sampling frequency (Fg) | 2.5 kHz |
| Signal delay | < 400 μs |
| Further variants | |
| --- | --- |
| IDO32, IDIO32 | Find it in our product flyer |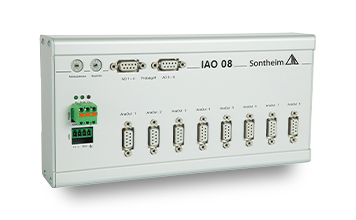 24 V module with 8 an­alog outputs and an elec­tri­cal­ly iso­lated CAN inter­face accor­ding to ISO 11898.
8 analog outputs
Galv. isolated CAN interface acc. to ISO 11898
Safety features for high running safety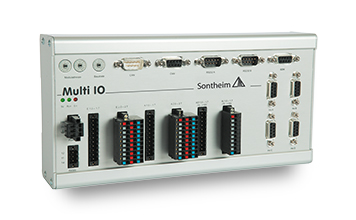 24 V high-per­for­mance module for in­put and out­put of digi­tal and analog sig­nals with a total of 52 IO`s and various features.
16 digital in- and outputs
8 analog in- and outputs
Galv. isolated CAN interface acc. to ISO 11898
32 digital outputs
Galv. isolated CAN acc. to ISO 11898
IP20, EMC requirements acc. to CE