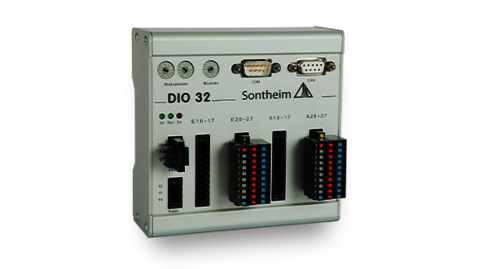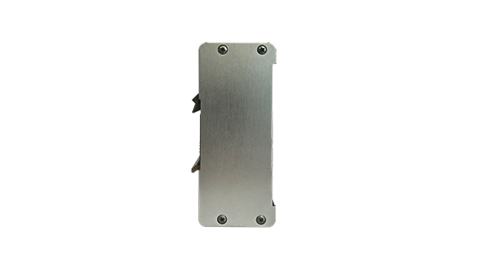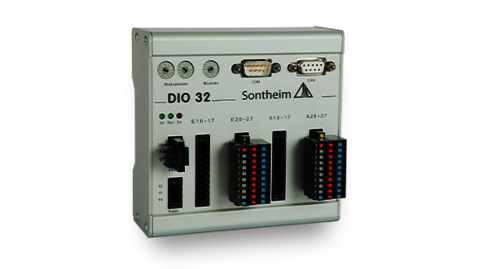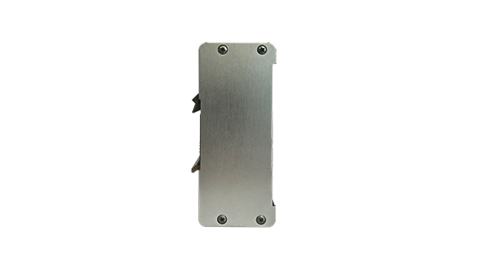 Digital 24 V or 12 V module with each 16 in- and outputs for use in CAN net­works
Safety features for high running safety
Galv. isolated CAN interface acc. to ISO 11898
Easy access to all interfaces
Own intelligence for complex CAN networks
All clamps pluggable and lockable
Signal delay of less than 400 μs
Galv. isolated inputs
Compact aluminium housing with IP20 and integrated top hat rail mounting
Housing and interfaces
The module has a compact aluminium housing and offers the possibility of top hat rail mounting. The interfaces are quickly and conveniently avail­able on the front panel. Using the 3-wire con­nec­tion technology, all sensors can be con­nec­ted directly to the module. The danger of incorrect wiring is great­ly re­duced by the color co­ding of the po­ten­tials, even for less ex­per­ienced users. Various clamp strips are avail­able, which are op­tio­nally equipped with LEDs. All inputs are in­di­cated by an LED on the clamp. In addition, both the baud rate and the module address can be set and read at any time using hex switches.
CAN interface
The integrated CAN interface in accordance with CANopen (DS 301 and 401) allows flexible use at different points and positions in the production process. It is designed accor­ding to ISO 11898.
Signal processing
In addition to the inputs, our digital IO has a powerful microcontroller that handles the ac­qui­si­tion of the sensors and the CAN protocol. Furthermore, security mechanisms such as guar­ding are fully integrated in the remote IO.
Power supply
The DIO32 is supplied with 24 V. The integrated reverse polarity protection pre­vents possible destruction of the module if the supply voltage is incorrectly applied. The control section is ad­dit­io­nally protected against short overvoltage peaks by an EMC circuit on the supply voltage.
Hardware
CPU
16-bit microcontroller
CAN
1× CAN interface acc. to ISO 11898, galv. isolated
Connection with D-Sub9 plug and socket (bridged);
Assignment acc. to DIN 41652
CAN protocol
DS 301 and 401
Number of modules/bus
127
Setting
of module address via 2 HEX switches
of baud rate via HEX switch
Connection system
Spring connection,
Clamping range 0.25 – 1.5 mm², solid wire "e"
fine wire "f" 0.25 – 1.5 mm², "f" with wire end ferrule
without plastic collar 0.25 – 1.5 mm²
Connection technology
Two-wire and three-wire connection, stripping length 10 mm
Operating status display
1× LED green for supply voltage (5 V)
1× LED green for operating mode (run)
1× LED red for error status (err)
16× LED green for set inputs
16× LED green for set otputs (directly at the clamp)
Dimensions (l×w×h)
121 mm × 120 mm × 48 mm
Weight
600 g
Protection class
IP20, EMC requirements acc. to CE
Storage temperature
–30°C up to +70°C
Operating temperature
0°C up to +60°C
Humidity
90 % non-condensing
Power supply
24 V DC ±20 %
All in- and outputs active, including LEDs
500 mA
| Digital inputs | |
| --- | --- |
| Number of inputs | 16 |
| Switching level "1" | +15.0 V up to +28.8 V |
| Switching level "0" | 0.0 V up to +8.0 V |
| Potential isolation | Optocoupler |
| Input current/input | 11 mA |
| Sampling frequency (Fg) | 2.5 kHz |
| Signal delay | < 400 μs |
| Digital outputs | |
| --- | --- |
| Number of outputs | 16 |
| Power | 24 V DC ±20 % |
| Circuit type | FET-Highside switch |
| Potential isolation | Optocoupler |
| Output current/output | 1 A (short circuit proof) |
| Total current of the module | 8 A |
| Total current of the module with blockwise supply | 16 A |
| Switching frequency | 1 kHz |
| Freewheel diodes | Yes, controlled inductors require external freewheel diodes |
| Signal delay | < 100 μs |
| Relay contact (switches, when module active) | 1× UM / 1 A |
32 digital inputs
Galv. isolated CAN acc. to ISO 11898
IP20, EMC requirements acc. to CE
32 digital outputs
Galv. isolated CAN acc. to ISO 11898
IP20, EMC requirements acc. to CE
40 digital inputs
Galv. isolated CAN acc. to ISO 11898
IP20, EMC requirements acc. to CE