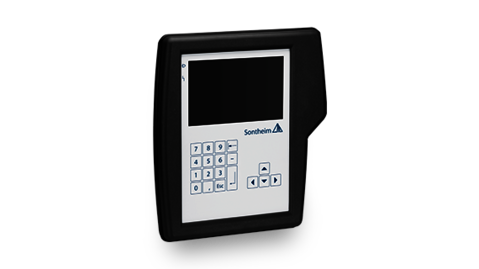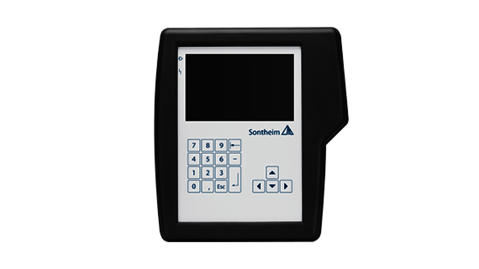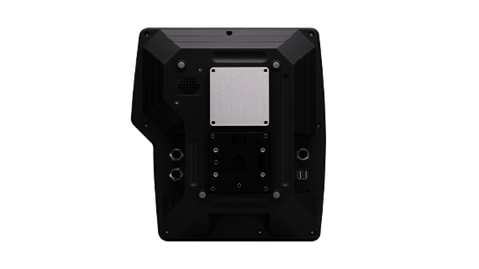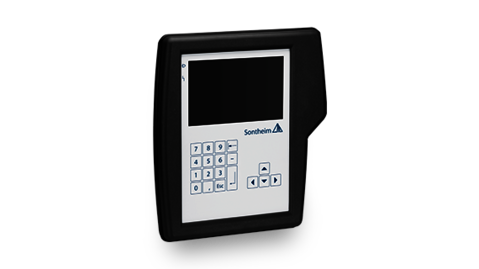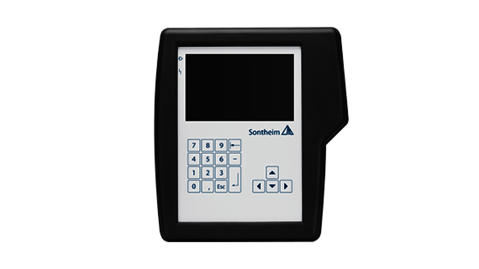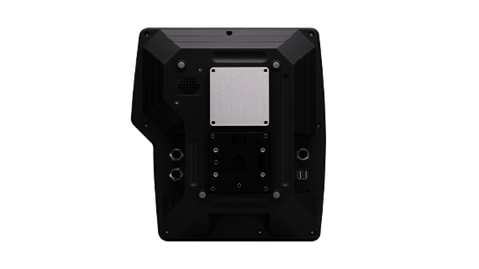 Optimum machine control and oper­ation. Two PC104+ slots for ad­dit­io­nal in­ter­face cards make the device a real all-rounder
Robust terminal for the control of machines
Powerful and energy-saving Intel Atom processor
Expansion slots for individual adaption
Mounting arm attachment for flexible placement
Equipment and display
The 1.1 GHz Atom processor ensures low en­er­gy con­sum­p­tion. There are 512 MB RAM avail­a­ble as well as an inserted SD card with 2 GB for app­li­ca­tions. The resistive touch screen and the mem­brane key­board allow data to be vi­su­a­lized and software com­po­nents to be op­e­rated. The Panel-PC 8000 is therefore ideally suited as HMI for machine control.
Interfaces
The terminal provides two CAN interfaces for con­nec­tion to field­bus net­works, which are im­ple­men­ted via an M12 socket and an M12 plug. Ex­ter­nal peripherals such as mouse, key­board or memory sticks can be easily con­nec­ted via two USB 2.0 inter­faces. The third M12 con­nec­tor is used as Ethernet port. With a bandwidth of 100 Mbit/s, it can be used for connecting to the network or for direct data transfer.
Flexibility through PCI slots
Two expansion slots allow the integration of further interfaces. As with the IPC-4, various var­i­ants are available for this purpose: CAN, FireWire, digital and analog inputs and out­puts, Profibus. In addition, many other functions can be integrated according to customer specifications. The Panel-PC 8000 can be used as a standard HMI or upgraded to a specific control solution.
Robust design
HMIs in production plants can sometimes be exposed to temperature fluctuations, spray water and mechanical influences. Therefore, when designing the Panel-PC, great impor­tance was attached to a robust con­struc­tion. The connectors prevent water from pen­e­tra­ting into the interior of the housing by sealing it to the inside. In addition, the mem­brane key­board with large buttons is also suitable for oper­a­tion with gloves. A support arm mount also allows the device to be in­stal­led outside the switch cabinet.
Hardware
CPU
Intel Atom CPU 1,1 GHz
RAM
512 MB
Memory
Internal SSD ATA SolidStateDrive-Flash, 512 MB
Internal SD slot with integrated 2 GB SD card
Other SD cards available upon enquiry
CAN
2× CAN interface via 2× M12 connectors (2× female)
USB
2× USB 2.0, Type A
Ethernet
1× Ethernet, 100 Mbit/s, M12
Supported CAN interfaces
CANUSB, CANfox®, others upon enquiry
Display
7"
Resolution
800×480, 262 colors
Touch
Resistive
Surface
Anti glare and wide view
Buttons/Front foil
19 buttons incl. keypad and navigation
LEDs
2 LEDs for monitoring current supply errors
Dimensions (l×w×h)
308 mm × 283 mm × 80 mm
Storage temperature
–10°C up to +55°C
Operating temperature
0°C up to +45°C
Weight
3.0 kg
Housing
Plastic housing with support arm mount
Rel. Humidity
5 % – 95 % non-condensing
Protection class
IP65
Supply voltage
24 V DC ±20 % via CAN-M12 interface
7'' touch display
Windows Embedded 7
Intel x86 architecture
Protection class IP54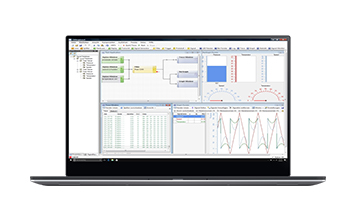 Don't lose any time during CAN bus diagnostics and benefit from the modular software for acquisition, processing, display and transmission of CAN data.
Fieldbus analysis tool
User-defined measurement setups
Receive, process, send and abstract
J1939 and CANopen protocol support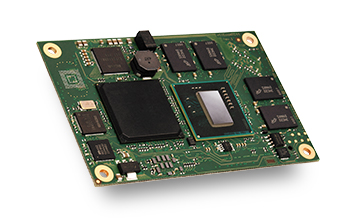 The customized em­bed­ded sys­tems have scal­able per­for­mance for mo­bile and net­work­ed sol­u­tions – even in harsh en­vir­on­ments thanks to an ex­tend­able temp­er­ature range.
Numerous interfaces, e.g. CAN, USB, PCIe
Onboard 10/100/1000 Mbit LAN
Intel Atom processor, Freescale i.MX6