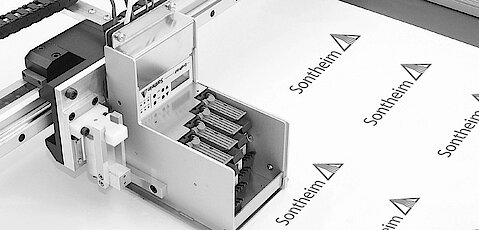 Development and integration of a printing system based on HP Inkjet Technology
When coding and marking wood products, robustness, flexibility and precision are the key to success. In cooperation with a leading OEM of CNC-controlled joinery machines, Sontheim Industrie Elektronik GmbH has developed a future-proof printing system based on inkjet technology. The printing system is optimally designed for the requirements and the rough daily routine with the raw material wood.
No matter whether positive or negative acceleration, whether wooden beams or boards. With the printing system, the customer is always able to achieve an optimized printing result. The HP inkjet technology, which is also used in the consumer sector, enables intuitive operation and maintenance of the printer. This means that all kinds of woods can be coded with fonts and print images.
The solution is a printing system that can be seamlessly integrated into existing machines without changing the production process. Due to its extremely high compatibility with regard to any type of machine, interface or year of construction, the system can be smoothly implemented into the customer's solutions. The printing system operates all CNC-controlled joinery machines, automatic cutting machines, automatic panel processing machines and planing machines. With a maximum printing speed of up to 180 m/min and active speed compensation, the OEM always gets an optimized printing result. The active speed compensation prevents distortion and tearing of the printed images. Integrated direction detection also prevents data from being printed twice. This saves both process time and material costs. For print data transfer, the system can be easily connected to the existing user interface via an Ethernet interface. The printing system is then controlled via fieldbus interfaces, such as EtherCAT or CAN, standard Ethernet and incremental encoders.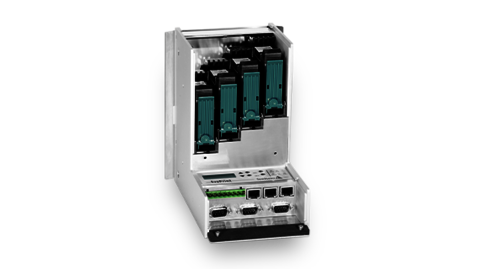 It is an extremely robust printing system based on HP inkjet technology. The system can be easily integrated into existing processes and is designed to be extremely robust.
Active speed compensation, direction detection and the CAN and Ethernet interface offer maximum reliability and flexibility.
Implemented and related products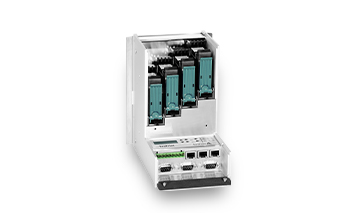 EvoPrint® en­ables seam­less inte­gra­tion in­to ex­is­ting ma­chine pro­ces­ses with­out chang­ing the pro­duc­tion flow. The max­imum print­ing speed is up to 180 m/min.
Active speed compensation
Printing during positive or negative acceleration
Software and firmware updates in the field via LAN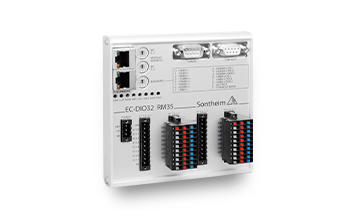 The IO modules for CAN, CANopen and EtherCAT are used for fast for­war­ding and safe manage­ment of analog and digital signals. Ad­dit­ional mo­dules, such as an inter­face con­ver­ter or multi­plex­er, are available as supp­lements.
CAN/CANopen
EtherCAT
Others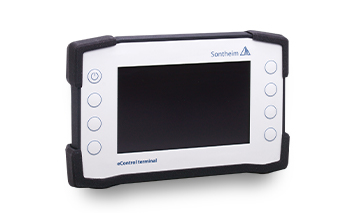 With the most diverse systems of control tech­nol­ogy, we cover customer-specific require­ments for con­ti­nu­ous moni­tor­ing of your auto­ma­tion solutions.
PLC controls
IPCs
Terminals