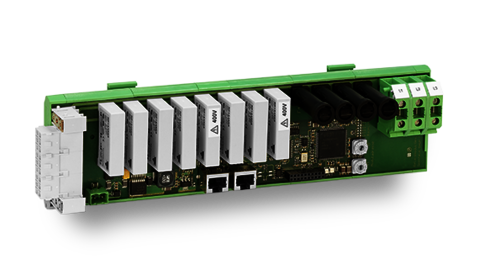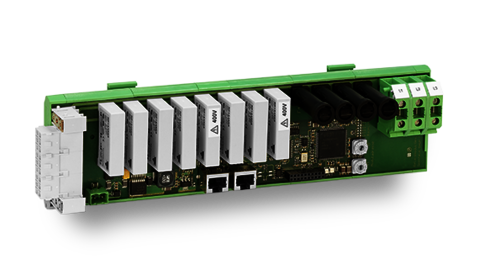 Relay module for controlling up to eight heating cartridges with 400 V
Controlling up to 8 heating cartridges
Integrated safety functions
Small dimensions
Simple top hat rail mounting
The relay module enables the control of eight heating cartridges with 400 V. It is designed in the open con­struc­tion typical for the Light family and impresses with its very good price-performance ratio. With its ex­treme­ly short conversion times for signal proces­sing and high process re­lia­bil­ity, this module is also ideally suited for con­ti­nuous operation in complex machine networks.
Power supply and relay
Phase L1 is only looped through in the relay module. The other two phases L2 and L3 are used to control the loads. Furthermore, a current measurement is integrated on the re­lay module, which enables a cyclic current meas­ure­ment of each relay. The meas­ure­ment is divided into two blocks of four relays each. The RP1 is a solid state relay for PCB mounting and has three regulated control vol­tages for the control of consumers. The high surge current capability and noise immunity there­fore make switching AC loads extremely safe.
LEDs and switches
Several status LEDs allow to visualise different operating modes and warning messages from its safety functions like heartbeat telegrams. Con­fi­gu­ration of the module address and baud rate can be done via HEX switches and braze jumpers. The relay module is turned to 250 Kbit/s as a standard.
Signal processing
There is a powerful ARM7 microcontroller on the module for controlling the relais and the CAN protocol. Additionally, heartbeat is in­te­gra­ted into the device.

CAN interface
The integrated CAN interface is designed in accordance to DS 301 and 401 for a flexible use in different places and tasks in the CAN bus network. All Sontheim CAN interfaces comply to ISO 11898.
Hardware
CPU

ARM 7-based

CAN
1× CAN interface according to ISO 11898
Connection with RJ45 socket
Operating system display
1× LED green for operating mode (run)
1× LED red for error status (err)
1× LED green for power supply
Setting
of module address via 2 HEX switches
of baud rate via solder jumper
Dimensions (l×w×h)
285 mm × 77 mm × 37 mm
Weight
185 g with clamps
155 g without clamps
Type of installation
Hat rail
Storage temperature
–30°C up to +70°C
Operating temperature
0°C up to +60°C
(extended temperature range is optionally available)
Humidity
90% non-condensing
Conformity for EMC directives
EN 61000-6-4 and EN 61000-6-2 (Industrial sector)
Power supply
12 V DC up to 30 V DC
| Relay-Data | |
| --- | --- |
| Load voltage range | 2–530 V AC |
| Peak reverse voltage | 1000 V |
| Input – load circuit | 4 kV AC |
| Nominal frequency range | 45–65 Hz |
| Power factor | > 0,5 |
| Switch-on zero voltage | < 10 V |
| Approvals | UL, cUL, VDE |
| CE-Identification | Yes |