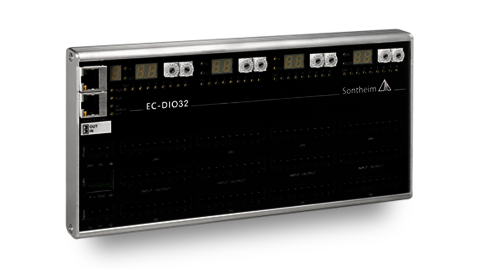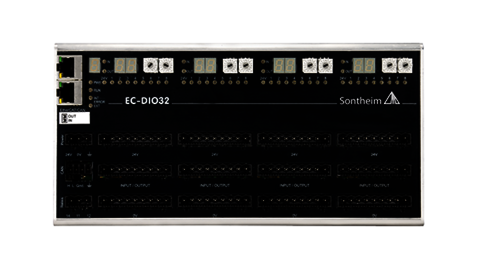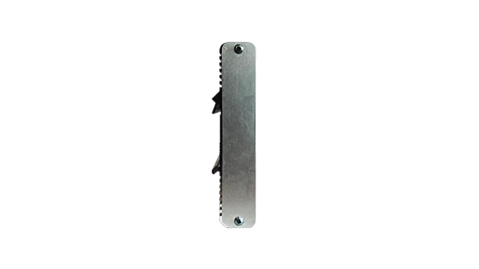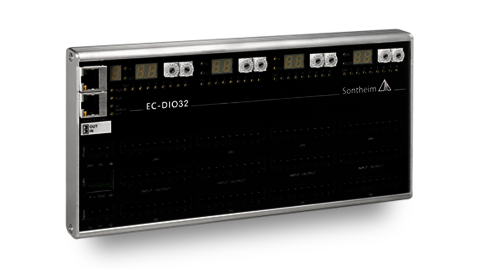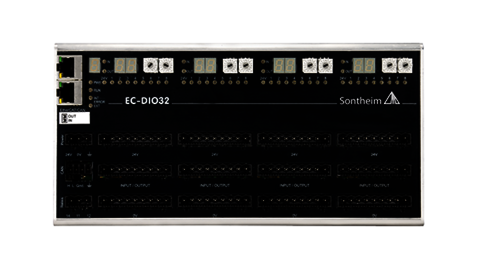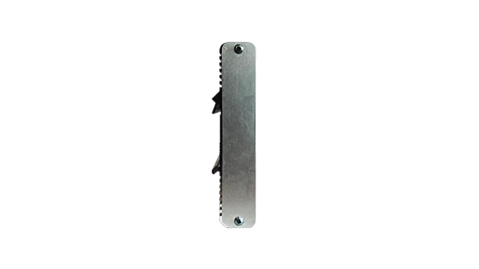 Digital 24 V module with 32 freely configurable in- and out­puts and an EtherCAT and CAN interface
Signal delay with less than 400 μs
Safety features for high running safety
Easy access to all interfaces
Own intelligence for complex EtherCAT networks
Galv. isolated in- and outputs
Free configuration of in- and outputs
Analog and digital diagnostic functions
Compact aluminium housing with IP20 and integrated top hat rail mounting
Housing
The aluminium module is extremely compact and offers the possibility of top hat rail moun­ting. All interfaces are quickly and con­ve­nien­tly available on the front panel.
Connection technology
Using the 3-wire connection technology, all sensors and actuators can be connected directly to the module. The phoenix clamps used ensure a simple and extremely robust connection, which makes the EC-DIO32 very resistant and process-safe. Each IO block of the device is galvanically isolated and is supplied with voltage separately. Thus, dif­ferent voltages can be applied to one module for the operation of emergency stop circuits, e.g. safety doors.
Fieldbus interfaces
Two RJ45 sockets for EtherCAT and CAN are provided on the mo­dule, which enables simple connection with other modules via Ethernet patch cables. In this way, de­cen­tra­lised use of the module is also possible. The module automatically de­tec­ts the type of fieldbus network it is in.
Signal processing
Due to the configurability of the IO blocks, the device offers completely new possibilities for signal proces­sing. The user now has the pos­si­bil­ity to freely select both the use of the module and the design of the machine net­work. In addition, each individual block can be addressed.
Microcontroller
In addition to the inputs and outputs, it has a powerful microcontroller that handles the acquisition of the sensors, the control of the ac­tu­ators and the EtherCAT protocol. Ad­dit­io­nally a relay contact (changeover) can be used as a safety function. If the guarding from the master fails, the module switches to STOP mode.
Diagnostic features
Various diagnostic options make the device an ideal solution for EtherCAT networks. The power supply of the blocks can be read back in analog mode as well as the levels at the individual inputs and outputs. Also a digital monitoring of the out­puts is implemented.
Hardware
CPU
16-bit microcontroller
Connection technology
Two-wire, three-wire connection
Operating system display
1× LED green for supply voltage (5 V)
1× green LED for operating mode (run)
1× LED red for error status (err)
32× LED green for set input/output
Dimensions (lxwxh)
241 mm × 120 mm × 48 mm
Weight
850 g
Protection class
IP20, EMC requirements acc. to CE
Storage temperature
–30°C up to +70°C
Operating temperature
0°C up to +60°C
Humidity
90 % non-condensing
Power supply
24 V DC ±20 %
All in- and outputs active, including LEDs
500 mA
| Digital inputs | |
| --- | --- |
| Number of inputs | Freely configurable in 8-blocks (max. 32) |
| Switching level "1" | +15.0 V to +28.8 V |
| Switching level "0" | 0.0 V to +8.0 V |
| Electrical isolation | Optocoupler |
| Input current/input | 11 mA |
| Sampling frequency (Fg) | 2.5 kHz |
| Signal delay | < 400 μs |
| Digital outputs | |
| --- | --- |
| Number of outputs | Freely configurable in 8-blocks (max. 32) |
| Power | 24 V DC ±20 % |
| Circuit type | FET-Highside switch |
| Electrical isolation | Optocoupler |
| Output current/output | 1 A (short circuit proof) |
| Freewheel diodes | Yes, controlled inductors require external freewheel diodes |
| Signal delay | < 100 μs |
| Relay contact (switches when module is active) | 1× UM / 1 A |
| Switching level "1" | +15.0 V to +28.8 V DC |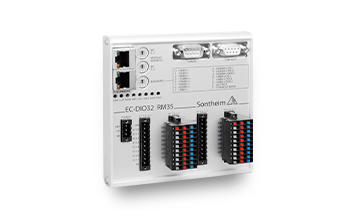 Digital 24 V module with 32 freely configurable in- and outputs and an EtherCAT and CAN inter­face.
Signal delay of less than 100 µs
32 freely configurable in- and outputs
Suitable for EtherCAT and CAN networks