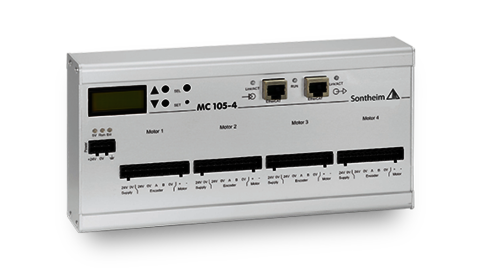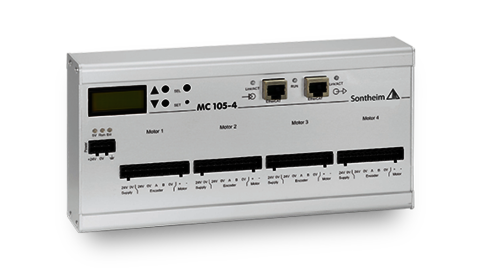 Drive control for up to 4 DC motors with var­ious con­fi­gu­ra­tion op­tions and safety functions
Own intelligence for self regulation and data management
Safety features for high operating safety
Free configuration and storage of operating data
Compact housing with IP20 and integrated top hat rail mounting
Functions of the channel
One motor can be controlled per channel. One en­coder and one power supply per channel are avail­able. Current limitation and current meas­ure­ment can also be performed individually.
Safety is a top priority
The limit current is definable and is stored by the module as a base value, thus avoi­ding errors in the current cal­cu­lation. The MC105 ad­dit­io­nally has an emer­gency stop function, which is triggered in the absence of bus com­munication.
Hardware
CPU
Philips Arm 7
Fieldbus
EtherCAT
LEDs
1× LED green for power supply
1× LED green for operation mode (Run)
1× LED red for error (Err)
Display
2 lines à 16 signs
Dimensions (l×w×h)
241 mm × 120 mm × 48 mm
Weight
approx. 800 g
Housing
Aluminium housing with protection class IP20
Storage temperature
–10°C up to +70°C
Operating temperature
0°C up to +60°C
Rel. humidity
90 % non-condensing
Supply of the motors
Isolated, 24 V DC up to max. 5 A
Power supply
24 V DC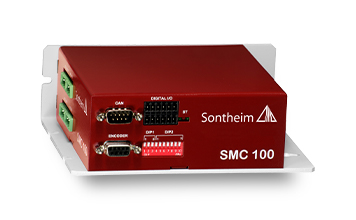 The stepper motor con­trol­ler con­trols bi­po­lar 2-phase stepper mo­tors with high pre­cision.
Phase current of up to 10 A
4 galv. isolated in- and outputs each
1× CAN interface acc. to ISO 11898
Own intelligence for self-regulation and data management